Pictures speak a thousand words! It's well said. This saying holds so true in the corporate world too where stress is laid upon attracting more and more customers. However, in today's fast-paced world, nobody has enough time to go through lengthy, or sometimes, complex texts and promotional offers. This is where custom banners enter! Custom-designed banners, whether you need a construction site signage or for events, work amazingly.
Though the world heavily relies on digital medium for advertising their business, custom banners and signage are irreplaceable. A visually catchy and appealing banner is a great and one of the most effective ways to promote your business.
The best part is that you can get them fully customized according to your preference for size, shape, and color. You can include any information, from your brand logo to images of your important board members, on signage.
Reasons To Use Custom Banners To Promote Business
Here are the top five reasons why you should get custom banners to promote your business:
Make your business stand out
For your business, you can think of putting your corporate message on custom-made banners of multiple shapes and sizes. These are made for both indoors and outdoors. If you want to put them around a grand opening, or looking for a construction site signage or a sale event signage, you need a sturdy outdoor banner that instantly grabs the attention of your potential customers and foot traffic. Similarly, you can get indoor signage as per your needs. All in all, a right banner is one that looks appealing, makes you unique and conveys your business message manner appropriately.
Easy and Inexpensive way to promote your business
Custom banners easily fit any budget. They make you stand unique in the crowds and draw the attention of more and more customers without breaking the bank. It's a simple, yet elegant and effective way to advertise your business. You just need a name, logo, trademark and an impressive tagline for it.  Gather the information you want to include on your signage and send it to a reliable and professional banner company. You can choose the color and designs as per your taste.
Banners are inexpensive as they're easy to print; thanks to the advancing technology. Digital printing helps produce high-quality custom banners in no time. Even if you need a last-minute customized banner, you'll get it quickly.
Multipurpose and reusable
Custom banners are both multipurpose and reusable. You can use them for following situations:
Product launches
Trade shows
Grand openings
Parades
Company events
Community events
Public relations campaigns
Custom banners are the one-time investment. Once designed, you can use them anywhere and anytime you want. They're portable and lightweight. Just fold them and carry anywhere with you. You can easily keep them around your store, use them as construction site signage, or put them around community event.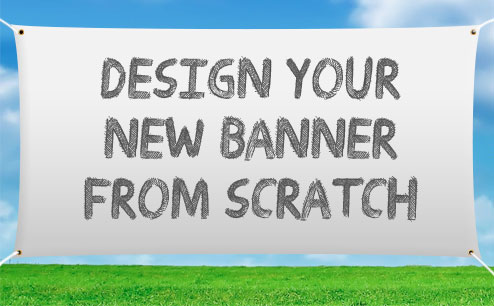 Reinforce your company and change the way your business is perceived
When you place your banners frequently in local and non-local events, and the same customers continue seeing it, they'll remember your business name. These customers will approach you when they need your services or products. So, custom banners reinforce your company effectively and help you establish business connections. Passersby and onlookers become intrigued and visit your store for purchase on seeing your attractive banners.
Moreover, custom banners are fun! Even if your business doesn't come across as fun to the general public, introducing an interactive and fun promotion is an exciting way to draw new customers.
The best part – Customizability
The greatest thing about custom signage is the level of customizability they allow. Earlier, banner designs were limited to few simple fonts, very few colors, and simple graphics. But today, you can incorporate anything, from high-resolution photography to a range of colors into your banners. Technological advancements allow you to think of even the most complex designs.
All you need is to save these graphics on a computer system in a high-resolution format. These graphics are sent to the ink jets to produce appealing and realistic signage. In simple words, you can get banners with thousands of options for fonts, colors and graphic designs, which are great to convey your business message to your customers in a better way.
So, if you're serious about your business promotion, leverage the power of customer banners.